Easton LIVE Live!
On Friday, May 21 the Lions Club-sponsored Easton Live Music Series will present local favorite Dave Spagone in its first 2021 event with a live audience. Easton Live viewers have had the opportunity to hear Dave and other local musicians livestream from Shovel Town Brewery in recent months, while indoor music was not allowed. This show will feature Dave on piano playing crowd pleasing tunes that span many genres and decades.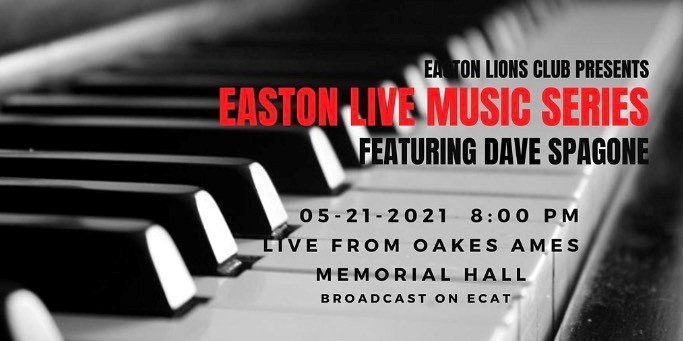 The Oakes Ames Memorial Hall is generously hosting the event in the upstairs grand hall and Maver Memorials will provide sponsorship for the concert. The Hall's excellent acoustics and ambiance will provide a perfect venue for an evening of entertainment, and a welcome night out for live music fans.
Tickets to the concert are available for a donation of $10 per ticket, with all proceeds going to the Easton Lions Club Charitable Foundation. Limited tickets are available based on COVID restrictions. Doors open at 7:15 pm and music will begin at 8 pm. Refreshments will be available for purchase. There will also be a drawing for Easton Live T-shirts and some unique raffle prizes. Tickets are available via Eventbrite: https://www.eventbrite.com/e/easton-live-starring-dave-spagone-live-at-oakes-ames-memorial-hall-tickets-153199081577
Tickets can also be purchased on the Easton Lions Events – Music, Art & Entertainment Page on Face book. Click on events/Dave Spagone, and you will see an option to purchase tickets.
Support our Community: Make a charitable donation to the Easton Lions Club or a gift in memory of a loved one today or mail a check with a note to:
Lions Club of Easton Foundation,
P.O. Box 1032, Easton, MA 02334
Saturday 10:00 am – 2:00 pm
Drop-offs Saturday's from 10:00 am – 1:00 pm
Find us at 192 Washington St, Rt 138 on the corner of Elm Street next to Bob's Ski Doo Call 508-230-5466 (LION) for pick-ups. New COVID-19 restrictions in place.
The Easton Lions have been living in, giving back & serving Easton since 1931! We do whatever is necessary to help our community. We work together to make Easton the best community it can be. Join us and help make a difference.
Recent News and Blog Posts