2019 Holiday Festival & Main Street Stroll Home
Planning Has Begun! Stay tuned for updates and firm info!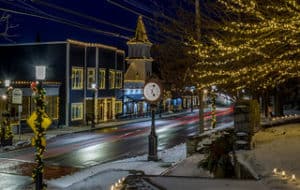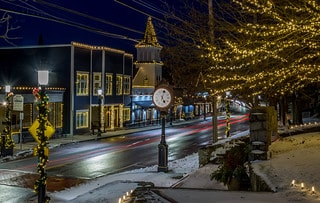 All events occur in the Historic District of North Easton, MA on Main Sreet, the Rockery, Oakes Ames Memorial Hall on corners of Main, Lincoln, and Barrows Streets.
Premier Sponsors to be listed soon!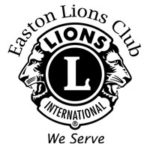 Arts and Crafts Show
Crafter's can find our online application website at: https://eastonfestival.wixsite.com/home
The Easton Lions are excited to bring home some of the best local artisans to the Oakes Ames Memorial Hall during our annual Holiday Festival.  This is a juried art show, so you can be sure to find quality crafts and artwork.
This is a great time to find that special gift for the coming holidays in December.  Come visit our heated hall with two full floors on Saturday and one floor on Sunday.  Our artisans will have that special something you've been looking for.  With many  one-of-a-kind items not found elsewhere in cookie-cutter stores.
The arts and crafts fair is in North Easton's historic Oakes Ames Memorial Hall.  Anyone interested in renting a space for the fair can learn more by downloading the Crafter's Application & Contract using the button above.
Questions about the show should be directed to Lion Lynne Payne at lynnepayne@mac.com
We're looking forward to another wonderful show!
FIRM INFO TO FOLLOW – STAY TUNED
Parade Organizer: Ann Martin
508-238-6704 or 508-294-5409 cell
e-mail rickmartin2x@gmail.com
The Christmas Parade, with Santa Claus leading the way, will start at the Easton Village Shoppes and North Easton Savings Bank on Main Street (Washington Plaza). The parade runs THRU the Rockery and ends past the library on North Main St.
If you, your family, your group or organization would like to participate with your business vehicle, a FLOAT, a decorated car, truck, wagon, bicycle, just march in or whatever, you are most welcome!  
This is an opportunity to be imaginative and get your business or group in front of townspeople. If you have questions or need help or want to participate and don't know how, please contact Anne Martin at (508) 238- 6704 (home) or (508) 294-5409. Email address for the parade is rickmartin2x@gmail.com.  Or contact our Holiday Festival Chair at HolidayFestival@eastonlions.org).
The parade runs down Main St through the Rockery and ends past the library on North Main St.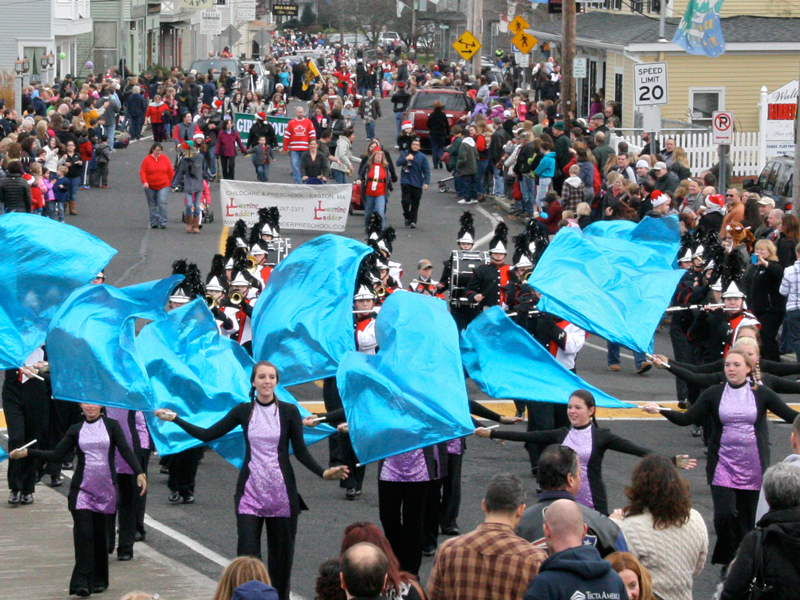 2018's Program Book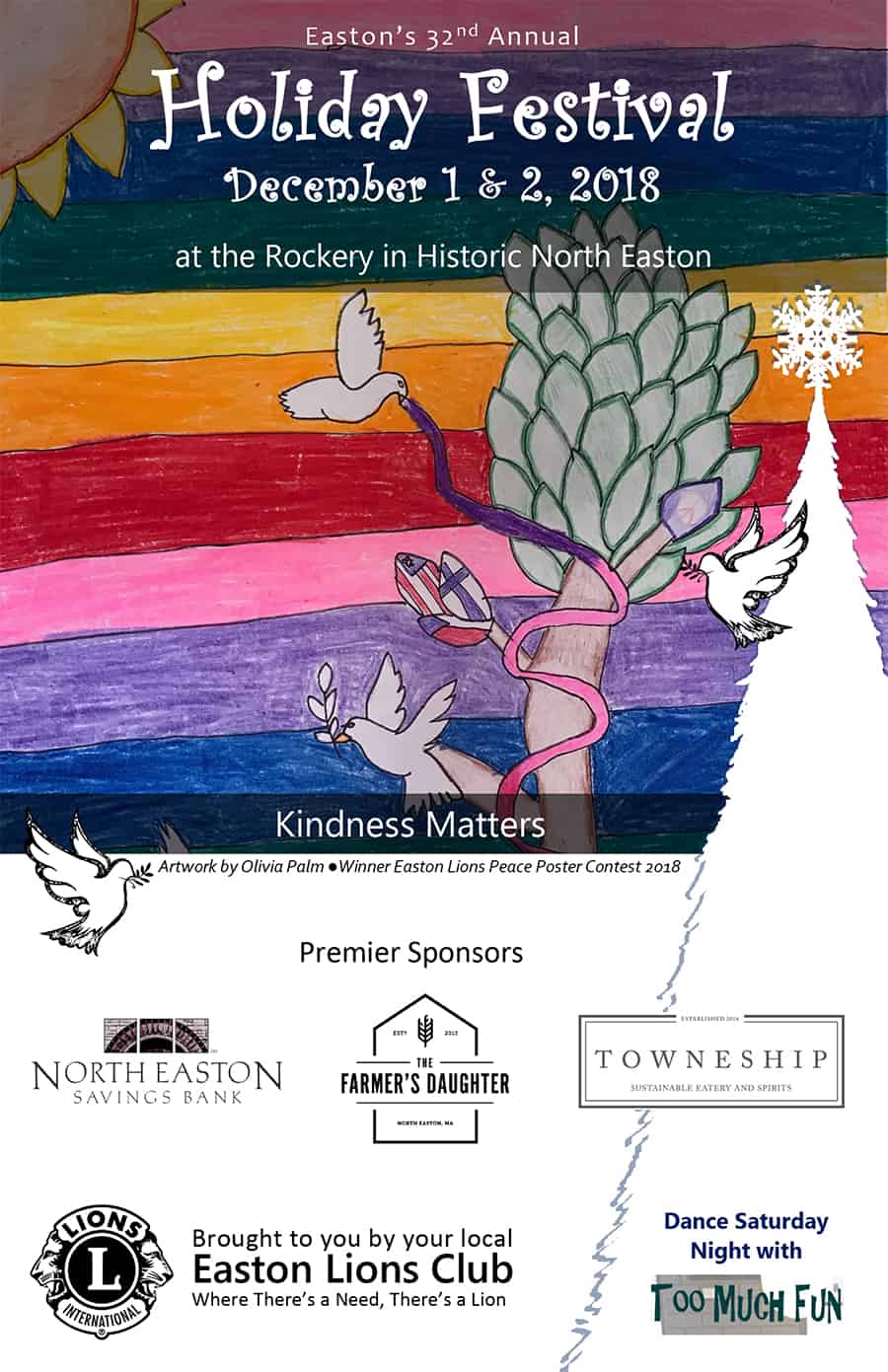 Thank you to our many sponsors who continue to support us from year to year.  Please be sure to visit our sponsor's businesses and websites to learn more about what they offer and how they support our community.
2018's Festival Sponsors
Diamond Sponsors
Platinum Sponsors
Gold Sponsors
Avery Lee Williams Family Trust
Christina Martinez – Weichert Realty
Dr. David Mudd
James & Carla Loonie KW Realty
Silver & Friends of the Festival Sponsors
Abate Associates
E.M. Pires Painting Co.
Easton Lions Thrift Store
Easton Yoga Center
EJM Towing
Elite Electrology
Estey Contractors Sealcoating
Freitas Associates
International Food Gourmet, Deli Italiano
May's Tires & Accessories
Megan Ferguson KW Realty
South Easton Motor Sales Inc.
The Beanery on Washington
The Paint Farm – Wrentham
William M. Callahan Realty Group
Festival Planning and History
What's Happening This Year?
Holiday Festival planning is happening NOW!  We hope to build on the success of last year with the dance and The Farmer's Daughter  special event on Saturday in North Easton Village.  We are looking for ideas on how to make our annual event better, engaging with businesses in the historic district and making it more fun for all the folks and families in Easton.
As always, the activities begin with an Arts and Craft Show at Oakes Ames Memorial Hall (3 Barrows Street Easton). Great shopping or browsing offered for an incredible array of gifts.  The Hall is heated!
Festival History
Since 1986, at the Rockery and Oakes Ames Memorial Hall in North Easton, Massachusetts, Easton townfolks  celebrate the holiday season with the annual Easton Holiday Festival coordinated by the Easton Lions Club and supported by many local businesses and families in Easton.  This event happens the first full weekend in December each year with the Easton Lions cooking up burgers, dogs and fried dough; bouncy houses, train and hay rides, and carnival games for the kids; crafters and artisans in historic Oakes Ames Memorial Hall and free entertainment at the entertainment tent on the Rockery.  Saturday evening welcomes Santa on his firetruck and he leads the countdown to the lighting of the Rockery and meets with all the kids.  Sunday highlights include the Holiday Parade, the reindog procession and the Greatest Kids Show…Ever!!! on the second floor great hall in Oakes Ames Memorial Hall.
In 1988 the Easton Businessman's Association passed along the baton for the Festival to the Easton Lion's Club.  The Lions took up the task and committed the resources to take over the management of the Festival of Lights, a Holiday-season event that had been in place since 1986 on the Rockery each December.  The Lions took this project on with their usual determination, growing it into the festive event it is today.  Significant changes have taken place over the years, most notably was in the mid-2000's when the Rockery was restored to its 1882 appearance (necessitating the removal of its trees).  This moved the Lighting in a new direction, and the music-syncopated light-and-sound show we have today became part of the evolution of the Holiday Festival.
The Lions do not manage the Holiday Festival as a fund-raising event, but rather as a Holiday party put on for our townspeople.  We work to make changes from time-to-time, and hope to keep the event interesting and appealing to people of all ages.  The Holiday Festival takes place the first full weekend of every December.