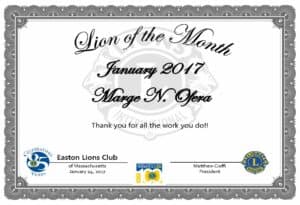 We continue to add new members, in this our 85th year serving the Easton Community. Since October, the Lions Board of Directors voted in nine new members to the Easton Lions. We are proud to announce and welcome new members Craig Barger, Richard Chmielinski, Soeurette (Sue) Comeau, Allan Harris, David Howe, Stephen Marcus, Mike Reardon, Katherine Richards, and Kathy Malone, wife of former Lion Bill Malone who passed away this summer.
Our club gives members an opportunity to advance worthy causes, serve with friends, and become leaders in the community. This club means a lot to our Lions, but it means so much more to the people we serve. In that spirit, Matthew Cioffi, club president has recognized four Lions for their service as Easton's Lions of the Month.  Go to our Be A Lion, Club Award and Honors page to view all current Lions of the Month.
In November, Catherine Sutton was honored for her endless efforts and participation in all our Lions events this fall, working on the food committee, and for donating funds for the Thrift Store tent. She took on each task with exuberance and a smile and showed the true heart of a Lion!
In December two lions:

Lynn Kingsbury for taking our raffle baskets to the next level at the Holiday Festival and for her drive to get sponsors and raffles at all our events.
Jim Abate for jumping in to lead the subcommittee for the Holiday Festival program book and ad sponsorships on very short notice and for providing his expertise to make it better.

And for January, Andrew Parker was awarded Lion of the Month for his work as our new Chief Lion Tweeter.  In two short months Andrew increased our monthly impressions by 20 fold, garnering over 4,000. He also has been one of several a welcoming new luggers and tuggers at the Thrift Store!!