by Jon Morgan
Thank you to all the many Lions who answered the call for help this past Saturday on November 24th! We needed one more set up day to tie up some loose ends and get the lights working for the Festival this weekend! We had the much-appreciated help of the following Lions:
Andrew Parker
Bob Moulton
Dan Ferguson
John Tracy
Jon Morgan
Matthew Cioffi

Jim Baker
Josh Jacobs
Ram Penumarthy
Rob Goodrich
Ron Handverger
Thrift Store Decorations
And, a special thanks to Easton resident Nathalie Fulford and her family. They spent the day at the Rockery tending to the decorations of the houses!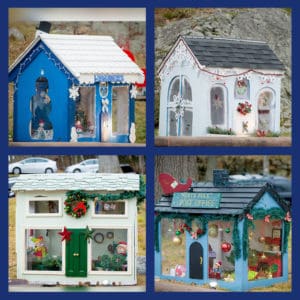 Volunteers Needed This Weekend!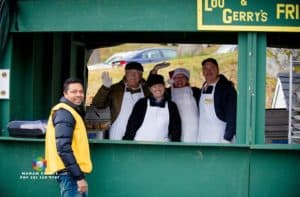 Speaking of the Festival, we need your help! We still have many gaps to fill. If you missed the meeting Wednesday or the email from Rob Goodrich, please give Rob a call at (508) 745-8375.
We will also need about a dozen or so volunteers this afternoon, Friday, Novmber 30th starting about 3 PM at the Rockery. So, if you haven't already done so, please consider signing up for at least one preferably two or more 2-hour time slots. As you well know, "Many hands make light work."
Please let Rob know the day(s) and period(s) of time you would like to volunteer for. The periods of greatest need tend to be Saturday from 2 PM to 6 PM and Sunday from 1:30 PM to 6 PM. If you prefer to work a specific activity or activities, please let Rob know that too and please feel free to encourage the participation of your family members (good community service hours for the kids!), friends or neighbors. Simply pass their information on to Rob to get scheduled for an activity.
Below is an activity list hours to fill for each. Rob will try his best to accommodate you but will necessarily fill the lists on a first-come, first-serve basis.
| | | |
| --- | --- | --- |
| Time Slot(s) | # People Still Needed | Day / Time of Coverage |
| Booth Frames Set-up & Take-down | 6+ | FRI 3 – 6 PM; SUN 4:30 – 6 PM |
| Chuck Wagon | 1-6 | SAT, 10 AM – 6 PM; SUN 12 – 6 PM |
| Climbing Wall | 1 | SAT, 3 – 5 PM; SUN 12 – 2 PM |
| Crafter Move-in | 2 | SAT, 7 AM – 12 PM |
| Crafter Move-out | 2 | SAT, 4:30 – 6:00 PM |
| Fried Dough | 4-7 | FRI, 3 – 5 PM; SAT, 10 AM – 6 PM; SUN 10:30 AM – 5 PM |
| Hayride & Train | 1 | SAT & SUN, 12 – 6 PM |
| Moon Bounce & Related Event | 1-2 | SAT, 2 – 6 PM; SUN 12 – 5 PM |
| Evening Dance Event | 4 | SAT, 6-11 PM |
| Rein-Dog Parade | 3 | SUN, 12 – 2 PM |
| Security | 1-2 | SAT, 4 – 6 PM; SUN 10:00 AM – 12 PM & 4 – 6 PM |
| Slide | 1 | SAT, 2 – 6 PM; SUN 12 – 5 PM |
| Ticket Booth Sales | 1-3 | SAT, 4 – 6 PM; SUN, 2 – 6 PM |