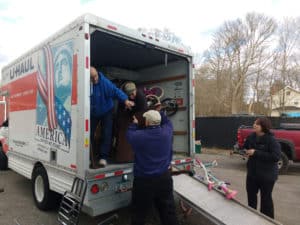 For Immediate Release:
On Friday, January 27, the Easton Lions Thrift Store partnered with the Old Colony YMCA in Easton to donate enough items to fill a 15 foot truck for the YMCA d'Haiti.  The Lions Thrift Store crew loaded the truck with a variety of items:
clothing and shoes for children and families,
desks and chalk boards,
tables and chairs,
a medical bed and cots,
30 children's bicycles,
Sporting equipment like tennis rackets, baseball gloves, bats and helmets, lacrosse sticks, field hockey sticks, soccer and basket balls, and tennis rackets,
garden tools and construction equipment,
among many miscellaneous household goods.
Folks from the Y then drove this truck down to Ridgewood, New Jersey where it will be combined with others to fill two containers going to YMCA d'Haiti.  The containers will be emptied and then used as part of the structure for a new YMCA in Haiti.  The new building will enable the YMCA d'Haiti to continue providing life-changing programs and initiatives like:
Literacy program for both youth and adults
Academic enrichment
Sports & Arts programming
Leadership Development
The Y and the Lions are about people coming together for the common good. We as Lions are proud to be a part of this project and to help our family in need in Haiti. To learn more about the Old-Colony YMCA in Easton, visit their website or contact their Executive Director and fellow Lion Serah Selmon at sselmon@oldcolonyymca.org.
Lions volunteers included John Mallers, Ruth Calvagne, Fran Clifford, Dr. David Mudd, Bob Grella, Matthew Cioffi, Serah Selman (Also YMCA Ex. Director), and Dennis from the YMCA who is driving the truck to New Jersey.