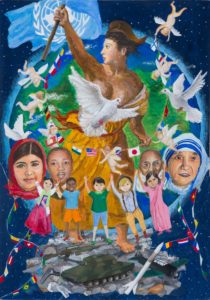 Two weeks ago, I asked for your help to tell a six-word story about why you joined the Easton Lions or something memorable about a Lions' event or service you've done or received.  I've received some great stories from many of you, and there is definitely room for more.  So keep them coming!  If you have a story you'd like to share, send in to info@eastonlions.org and I'll be sure to send them along to Nancy Sullivan for our next newsletter.
Below is a sampling of what I have:
Marilyn Henderson
We serve, We work, We enjoy.
Lions, "Let the good times Roll".
Good food, Good friends. Good times.
Work hard, accomplish much, Play hard.
Holiday Feasible, Auction, Golf Tournament, Meetings.
Learn, Grow, Show, Provide, Care, Enjoy!
Ken Love
Cornea transplants, prosthetics. Lions fight blindness!
Motto says it all: We Serve.
Rich Freitas
Liberty, Intelligence, Our Nation's Safety… Always!
Lori Maver
We are Lions, "see" us roar!
Accomplishments, seen in others assisted success!
Bob Cunha
Successful Results= Team Efforts, Common Purpose.
Andrew Parker
Lions build community, and dine together.
Matt Soeldner
Thrift Store, three floors, great bargains.
Go to Chicago, celebrate 100 years.
Making a difference, being a LION.
Junk day, John Mallers, truck overloaded.
Nancy Sullivan
I'm so glad that Lions roar!
Lions work to make hearts smile.
Easton Lions are a special Pride.
Excellence: a natural habitat of Lions.
Lions' Pride: Humble Acts of Kindness.
Friendship: natural in a Lions Pride.
Matthew Cioffi
Lee has my number! Lion Maybe?
Challenge: Friends find solutions, doing good.
Hey Matt, How can I help?
Avery Lee Williams
Charles Johnson had lost his sight.
I joined Lions because of Johnson.
This is the rest of the story:
Avery's story is the one he brings on the road as a guest speaker at Lions Club meetings. It is a form of testimony about an old friend whom Avery brought to a cornea transplant that finally induced him to ask the Easton Lions if he could join. (He had been asked many times previously, but was not quite ready at those askings.)