This month as we usher in a new president of the Easton Lions Club, Jim Abate, we say goodbye to current President Andrew Parker.
In honor of our 2021-2022 president The Beanery has joined with the Easton Lions Club in offering The Parker Lion! A concoction of iced coffee with Buzz and organic cinnamon & vanilla which President Parker described as both cinnamonny and sweet! You can order it hot as well!
Half of the proceeds go directly to the Lions Club! Sales begin tomorrow, Monday, June 13th and go through Sunday, June 19th. Shop early and shop often!
We've had a very successful year under Andrew's great leadership! Here are just some of the things Club members have had to say about President Parker…
---
"Andrew was all-in throughout his whole term as King Lion.  He led by example, as evidenced by his commitment to the Thrift Store where he was hard working lug-and-tugger, often there well before we opened each Saturday and back for the day-end close to assist with the physically demanding set up and breakdown process.

Andrew epitomized the Lions' motto of 'We Serve'.  He did a great job recognizing fellow Lions that went above and beyond in their service to the Club and fellow Lions.  He really appreciated those who give of their time and talent on Club activities that ultimate benefit the community and Lions causes."

Mark Ingalls, Due Treasurer
---
"Andrew has done a tremendous job steering the club through these challenging times and charting a path for the future with a changing club. Our motto is " we serve" That IS Andrew."

Bill Palmer, Past President
---
"Andrew did an awesome job! He did it thoughtfully, deliberately, with a great deal of skill and an even temperament. He made it look easy, but I know he worked his butt off. The Easton Lions Club is lucky to have him."

John Tracy, Board of Directors
"Andrew did a great job as president, getting all of the business of the meetings in a timely manner and making it entertaining in the process. He really surprised me as I thought he was kind of the quiet type when we sat together at meetings in years prior."

Stan Borgeson, Lion Tamer
---
"Thanks, Andrew, for a great year of programming and community support!"

State Auditor Suzanne Bump
---
"As president Andrew's quick wit kept the meetings lively and enjoyable."

Jim McSherry
---
"In the short time that I have been a Lion I feel Andrew Parker was everything a Lion should be: passionate, giving, helpful and caring. A job well done."

Peter Geraigery
"Andrew was one of the best King Lions I've seen. A very thoughtful and conscientious leader, he always endeavored to make our meetings/events interesting and fun. We should have elected him to a 4-year term… "

Rob Goodrich, Membership Chair
---
"Andrew. Maintained professionalism and clarity of thought during  remarkably challenging times.  
His calm leadership style helped bring order and direction to our Club during trying times.  
Andrew created interesting ways of recognizing member's contributions."
Jon Morgan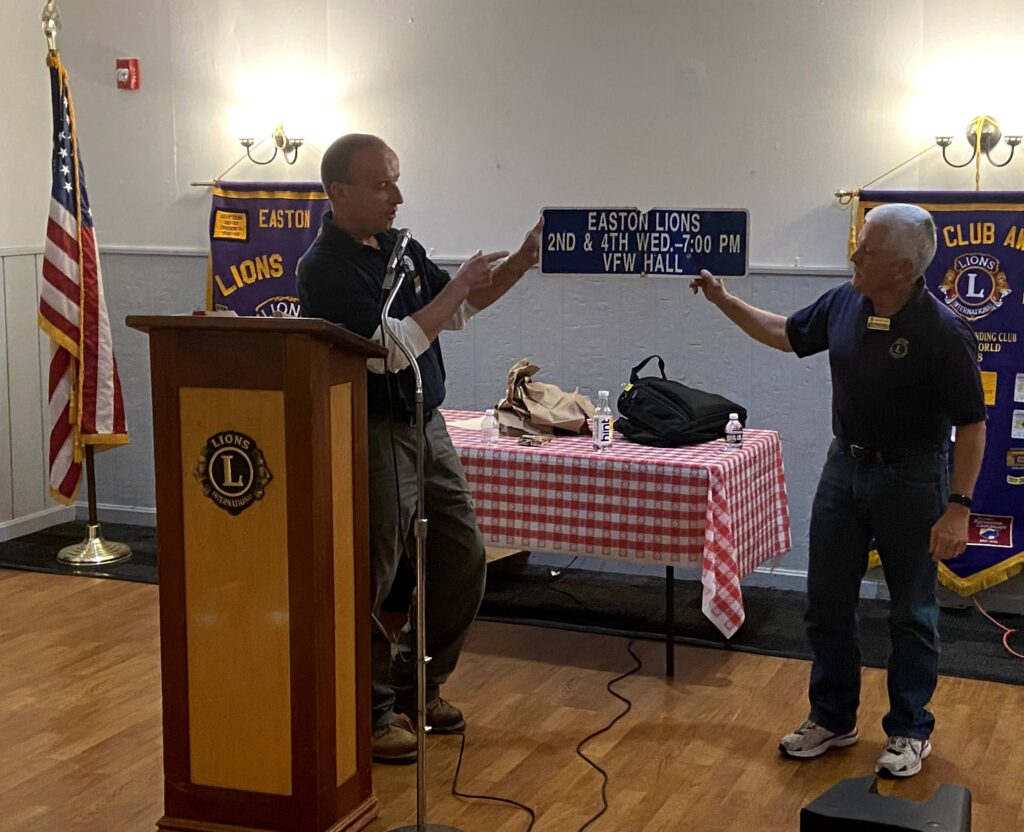 ---
"What a year! From starting out after not meeting in over a year and half… from having a venue that we never made it to… to finding a new venue… from the loss of significant and influential Lions… to welcoming 19 Lions this year… board meetings… a new Holiday Festival Chair… big things… small things… personal things… Club things… phone calls… texts… emails… Andrew – you are a class act and will always be the president I measure all presidents by… and I'm willing to bet I'll never encounter one quite a great as you! It's been my sincere pleasure to serve with you."

Michelle McGee, Marketing Communications Chair
---
"When my Presidential Term was over and I handed over the reins to Andrew, I did so with complete confidence and excitement. Andrew definitely led by example and he had a fantastic way about him. Keeping board meetings in check and general member meetings interesting, he will no doubt be known as one of our best presidents!  It was a complete pleasure being the Immediate Past President under his leadership!"

Lori Maver, IPP

---
"After the pandemic, Andrew Parker was the leader that we needed . He created a momentum , fun , great meetings and programs that were a great success for the club and the town of Easton —-THANK YOU !"

Bob Grella, Board of Directors
---
"Outstanding Job in the most difficult of times!  He never missed a beat!!!"

Bob Cuhna
---
"Andrew is really the epitome of a servant-leader. At the Thrift store he took on the glamorous work of emptying trash cans, folding cardboard boxes and endless hours of lugging. He was quick to praise and appreciate others but never sought recognition for his own efforts. He was even keeled, responsive, and never lost his sense of humor. Simply put: Andrew was a great President!"

Sheri Anderson, Leos Liaison
---
"Perspicacious and assiduous."

Gary Fradin, Board of Directors
---
"I think Andrew was absolutely great as President! He was such an engaging speaker, when he talked, everybody listened. He was energetic, motivating, knowledgeable, a great listener and an awesome role model."

Sue Kelly
---
"Andrew is a leader with vision: a leader who not only sees the "bigger picture" of not only being a leader within the larger community, but also a leader who served his Club in significant ways, as: empowering members to serve in traditional and new ways, and re-establishing some traditions after Covid while also introducing the flexibility needed to address needed changes. He worked collaboratively with past Club Leaders and his Board to bring the Club members together and supported the Chairs of our many activities. He was organized and prepared-and loved to recognize and appreciate our hard working and creative members. He also knows the importance of providing good meals!!! He supported Arlene's ingenuity and creativity to our benefit.😊
Andrew was the leader we needed. He rose to the many challenges the Club faced and worked with everyone this year as we created and faced a "new normal " for our meetings.
We've had everything from bag-pipes to speakers to entertainment in a variety of forms. Most importantly, we've had Andrew at the helm !! Thank you, Andrew."
Nancy Sullivan, Secretary
---
"Andrew has been an excellent president! He listens, he works really hard and he shows up and participates for just about everything. Guest speakers at meetings have been informative and meetings have been well run. Thanks for a great job Andrew!"

Dan Guerin, Treasurer
---
"Andrew is one of the hardest worker our club has. It doesn't matter if where the need is, he is there. He was one of our best presidents, I hope he runs again!"

Fran Clifford
---
"Andrew has a way of bringing out the best in Members. He made it a point to recognizing so many Members; their time, talents and contributions. Andrew is someone who rolled up his sleeves and worked long hours alongside everyone. He ran board meetings quite efficiently and effectively. He is a faithful steward to what it means to be a Lion."
Claire Abate, Board of Directors
---
So head on over to The Beanery! Andrew was the first to purchase The Parker Lion today!