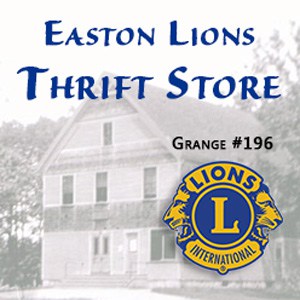 From Secretary, Matt Soeldner:
We are all proud to be Lions and we like the fact that we can donate to so many causes. This doesn't happen by magic but by working all the fundraisers. We have a call for all hands on deck for the Auction and the Holiday Festival, but, our largest fundraiser is the Thrift Store and we need your help. Our net profit last year was $43.6K on gross sales of $77.7K.  In prior years net was $57.9K, 59.7K, and $45.7K. The reason for the drop this year was the work being done upstairs.  For the last 3 years we have given to Mass Lions Eye Research over $150,000.00 and have still met our obligations to the rest of the community.
We are not asking you to give every Saturday or Wednesday just 2 or 3 hours once or twice a month. We are open every Saturday and Wednesday (except around the some holidays), but need help with our over-extended regular volunteers. If we can get a commitment like that, we should be good to continue. Most of the work consists of talking with the customers. Worried that you don't know pricing? No worry, just pass them along to one of the veterans. We do try and have everything marked but new items do come in and before we can get a price on them, we are asked "how much?". That is when you find Jack or Fran or Ken. Another ploy is to ask them "what they want to pay or how much is it worth to you?". Then you explain that all the money goes to vision and diabetes research. This works well for Jack, he has perfected this technique, come down and watch him work his magic.
We have had a few volunteers show up and then get the remark "I showed up and there wasn't anything for me to do", well folks, that is retail. But, there is always something to do – a little cleaning or arranging. The worst that can happen is you get a chance to get to know your fellow Lions. Lee spends a lot of his time recruiting for the club. You get to meet some great people who are customers that come back every week looking for a bargain. Yes, some of them are looking for everything for a 1.00 regardless of the price listed but again that is life at the Thrift. Are you handy with tools? We get items that need a little care, not all donated items are in tip top shape and could use a little TLC.
So, stop on down, lend us a hand and maybe you can pick up a bargain or two. Remember we see the items before the customers do. You never know what you will find, who you will see or what you will witness at the Thrift.
Some of things we need help with:
Pickups and deliveries with John Mallers
Friday night pricing and arranging new items on the main floor
Help setting up and taking down
Helping Ken with getting items posted on Craigslist or Offerup and taken down when sold
Helping Ruth on a Monday or Tuesday upstairs rearranging after a busy weekend
Cleaning up some of the furniture (it comes in dusty)
There is always something to do. The sky is the limit!
If you want to stay as the biggest and best, we need YOUR help!