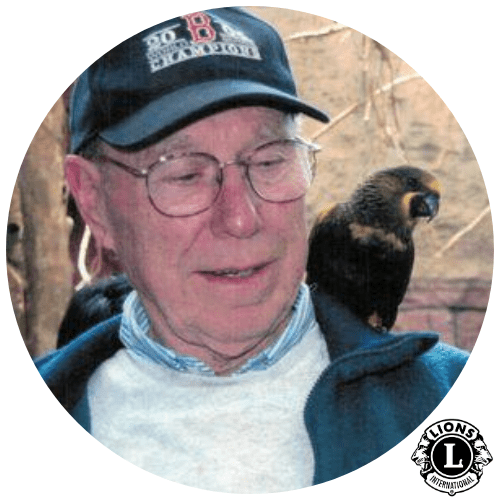 by Matthew Cioffi (Aug 5, 2020)
August "Gus" Arns Jr. (age 86) our friend and long-time leader of the Lions Reindog parade at the Holiday Festival passed away on July 31, 2020. Gus joined the Easton Lions in 2004 with his wife Nancy. In 2017 Gus was selected as the Easton Lion Member of the Year and in 2019 was honored as a Melvin Jones Fellow for his humanitarian work in Easton.
Gus was a Lion who knew how to have fun at every Lions' event.  He was always there with his infectious smile and humor.  Gus would be the first to take a new member under his wing and make them feel welcome. When I joined in 2012 and he found out I played the tuba, he immediately invited me to join him with his band. Gus was truly multi-talented, he had a love for animals, be it dogs, cats, or turkeys, he had the strength of an ox, and he played a mean trombone.  He was the champion and organizer of our annual Reindog Parade at the Holiday Festival for over 16 years.  He would collect entry fees of dog and cat food donations and deliver them to the Animal Protection Center of Southeastern Massachusetts in Brockton. 
No matter what came his way, Gus Arns always had a "We can get this done" attitude.  At the Thrift Store, Gus was a fixture since its inception.  He was there from set-up to take-down and made sure things got to where they needed to be. As Matt Soeldner would always reminded me, "Gus put us young guys to shame with his energy! " And most of all, he enjoyed chatting with customers, as he always has a good story to share.  
From First Vice President Andrew Parker:
Gus Arnes was one of the first members of the Lions Club I met.  We worked together on Saturday mornings at the Thrift Store.  Those were the days when we would completely empty the trailer in the morning, and repack it in the afternoon.  The first few weeks I was there Gus didn't say too much to me.  Then one day he turned to me and said, "it looks like you're going to keep coming around so I guess I should learn your name."
Gus worked harder than any volunteer not named Mallers at the store. He usually worked outside, unloading drop-offs and carrying them upstairs. He kept up the same pace whether it was 95-degrees and stifling or 20-degrees and bitingly cold.  And he took pride in outworking people who were younger.
Whenever Gus was trying to move a large piece of furniture by himself, I'd reach out and give him a hand with it.  He'd usually say, "I've got it" but let me help.  One day I was getting ready to move a large desk by myself. Gus came over and said, "that's too large for you to move by yourself."  When I backed away to look at it better, he stepped in front of me, picked it up and carried it out by himself, with a huge smile on his face.
Gus will be remembered at the Thrift Store for years to come.
Obituary details, the Brockton Enterprise and Kane Funeral Home:
Gus graduated from North Attleboro High School in 1952 and Northeastern University with a degree in Mechanical Engineering. Working for Seabeam Instruments in Walpole, Gus supervised the installation of sonar devices on ships in Germany, Spain, England, Holland, India, and Japan. Gus was a member of the Easton Finance Committee for 14 years, served as Chairman of the Easton Republican Town Committee and was a talented musician, playing the trombone in the Canton Community Band and the Double Eagle German Band. Gus also enjoyed gardening and had a fondness for wildlife. He created beautiful displays of flowers and vegetables around his home. Gus rescued many a bird, frog, turtle or squirrel but mostly he loved the turkeys. Gus will be missed by all who knew him and admired his devotion to family, friends and country.
In lieu of flowers, donations in Gus' memory may be sent to:
Animal Protection Center of Southeastern Massachusetts
(Website link) 1300 West Elm Street Ext. Brockton, MA 02301
Easton Food Pantry
(Website link) 136 Elm Street, North Easton, MA 02356
For condolences visit www.kanefuneralhome.com.