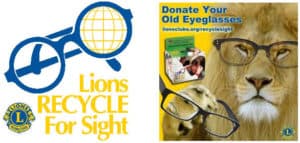 Changing Lives, One Pair at a Time
The Easton Lions, with Lions Clubs around the world recycle used eyeglasses and hearing aids.  The Easton Lions have boxes around town where folks can drop-off eyeglasses and hearing aids that you no longer need.  In just about any dresser drawer, one can find a pair of eyeglasses that are no longer being used. That same pair of eyeglasses can change another person's life.
Drop Your Eyeglasses in Lions' Collection Boxes
You can drop off your usable eye-wear at Lions-sponsored collection boxes in Easton and Brockton at the following locations or at one of the club meetings at the VFW (please see schedule in the calendar.)
Easton
Easton Lions Thrift Store (Grange), 192 Washington St, Rt 138 and Elm Street
(Wed 10-2, Sat 9-3)
Ames Free Library, 53 Main Street
Kozol Vision Center, 20 Roche Bros Way
South Shore Eye, 670 Depot Street
Town Hall, Elm Street
Yardley-Wood Rink at the Center School on Rt 123
(when open for events)
Brockton
B.U. Eye Assoc., 22 Christy's Drive,
Optique Ltd, 495 Westgate Drive
Paul B. Cotter, MD, PC
Pearle Vision, Westgate Mall
Walmart, 700 Oak Street
Mansfield
Pearle Vision, 287 School Street
Occasionally our local schools will have eyeglasses and hearing aid drives, with the children participating and learning about the program.
Going on a Mission Outside the USA?
Be sure to contact us to request eyeglasses for your mission. We can get you boxes of glasses from Massachusetts District 33-S to bring along with you.
For information about the Easton Lions' eyeglasses recycling program please contact Dick Lacana at 941-480-1108 or the Easton Lions Club president at president@eastonlions.org.
Click here to learn more about the Lions Clubs International eyeglasses recycling program around the world.
Check-out all our club service events at eastonlions.org/weserve.