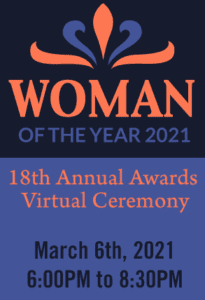 On March 6, 2021, Pratima Penumarthy will be honored at the 18th Annual Woman of the Year event hosted by INDIA New England News.  Pratima is one of 20 outstanding women from various categories and is recognized for her work on community service, caring for elderly community, human rights, and other works in community organizations.  One of these 20 women will be honored as Woman of the Year.  Pratima has been an Easton Lion since 2015 and we are all very proud of her and her work with the Lions. In addition, Pratima is the founder and director of Arya Math Academy since 2017. The article in INDIA New England states:
"Pratima Penumarthy is an advocate for education, and believes that education can promote gender equality and promote peace. In a time when schools have not been able to bring children in for learning, her online academy provides academic services and resources that fostered development of skills and attitudes necessary to increase the knowledge and academic independence of all students."
"Ms. Penumarthy has dedicated much of her time and energy helping her community at home and abroad to become stronger. She is a member of several committees for her hometown of Easton, including the Human Rights and Age Friendly Advisory committees. She is also a passionate member of TeamAid, Inc., an organization exclusively incorporated to assist people in crisis situations while traveling or living abroad."
When asked who inspires her the most, she said "[Ram has] been my BIGGEST cheerleader, best friend and best consultant. He inspires and motivates me to be a better person every day because although self-motivation is important, sometimes our steam just runs out. We all need a person running alongside us, telling us we can keep going, that we can cross that finish line."
This is a great honor and very well deserved 🙂  Congratulations Pratima!  If you would like to attend this year's virtual event you may purchase tickets here.