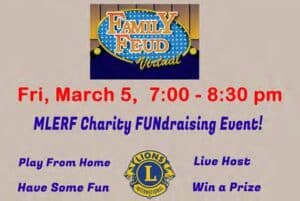 The Harvard Lions Club is launching its first-ever Journey for Sight fundraiser for Mass Lions Eye Research, hosting a fun virtual game based on TV's Family Feud game. This is a safe way for Lions to virtually party with their families or friends in private chat rooms while playing the game and catching up with each other.
It is also an opportunity for Lions all across MA to collectively embrace and support our state-wide commitment to curing preventable blindness through MLERF's grants to eye research institutes. All you have to do is sign up, show up (virtually, that is, via Zoom) and have FUN!
$60 to register any size team
Teams of up to 6 players qualify to win prizes
Game is played virtually via Zoom
You will be mailed a Zoom link ahead of time
Team members don't have to be in the same location or on the same device
Questions: harvardlionsclub@gmail.com
Sample link – how it works.