from Jon and Ram, Festival Chairs,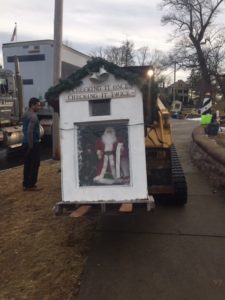 The 31st annual Easton Holiday Festival has officially been put to bed! On an unseasonably warm Saturday, January 20, a group of our members got some warm, fresh air by putting the displays back into storage.
Many thanks to our volunteers Steve Wilson, John Mallers, Ram Penumarthy, Ron Handverger, Dennis Gutman, Dan Guerin, Matt Soeldner, Scot Kudcey, Nick Forano, Andrew Parker, John Barry, Jon Morgan, Jim Lee, Matt Cioffi and Pattie Somers (who also brought pizza and donuts) for their efforts! In less than two hours, we had every bit of the festival decorations put away (likely a record, and made much easier because of all the work John Mallers did in early January getting the trees put away and the electrical cords).
Saturday's event would not have been possible without the generous support of Mike Looney of DJ Looney Enterprises. Mike and his father, Dave, not only moved our storage trailers to and from their resting place, but also made available their skid-steer (a machine that was invaluable in muscling the houses into the trailer). Many thanks to Mike and Dave for all their support!