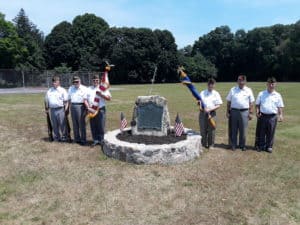 On Sunday, July 1st 2018, the Unionville World War 1 monument was re-dedicated at the Unionville Playground on Washington Street. 2018 is the 100th anniversary of the end of WWI. Numerous Easton Lions, Easton Selectmen, and area residents came by to watch the re-dedication.
This Easton Lions project was chaired by Scot Kudcey and was supported by the Board of Directors and the general membership. The monument was moved because it was not getting due respect at its previous location and could potentially have been damaged or destroyed in a car accident or by an errant snowplow.
Scot would like to thank the following Lions members for their generous help and support:
Ed Hands – who worked with the Easton Historical Commission and provided research on the history of the monument.
Lori Maver – who donated equipment and personnel to move and clean the monument
Mike Vareika – who donated equipment to help maneuver and place the monument in its new location
Pattie Sommers – who worked with the Board of Directors to approve the project
Dottie Fulginetti – who worked with the town to clear any issues that came up
Tony Cabral – who photographed the re-dedication ceremony
Scot would also like to thank Doug Springhetti of Springhetti Masonry for donating his services to build the new base around the monument, Commander Al Smart and the VFW Post 2547 Color Guard, Town Administrator Connor Reed, the Easton DPW, Timothy Hurley and the Easton Historical Commission, Cory Ahonen of the Easton Veteran's Office, and Easton Smiles Dental Office (where the monument was previously located).
The Easton Journal sent a reporter to cover the ceremony along with ECAT (Easton Community Access Television) who videotaped the proceedings. Information was also sent to the Boston Globe.  The article from The Easton Journal can be found here – http://easton.wickedlocal.com/news/20180702/unionville-ww-i-monument-rededicated