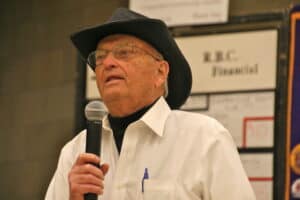 Avery Lee Williams – Chief Recruiter
June 29, 1935 – September 23, 2021
Avery Lee Williams, long-time member and "Chief Recruiter' of the Easton Lions Club, passed away in the early morning hours of September 23, 2021. Lee joined the Easton Lions Club in 1979, and was a member for 42 years.
In 2019 he was awarded the Membership Global Key & Medallion by Lions Clubs International in recognition of recruiting and sponsoring 250 members. Including those individuals who stayed in the Club for less than a year Lee introduced over 500 members to the organization. Since receiving that recognition Lee continued to recruit and sponsor new members. He was working to 'close the deal' on a new member just days before his death.

Lee learned 'community development' as a member of the Jaycees, which he joined in 1960. He credited that group with providing 'personal leadership training' that he tried to extend to the Lions. Virtually every program that the Easton Lions Club has created and operated over the last forty years was shaped by Lee's leadership.

Lee was integral to many legacy projects around town, some of which bear his name, many which don't, but all were advanced by the strength of his vision and drive. One of his more successful creations, the Easton Lions Club's Thrift store, has generated hundreds of thousands of dollars that have been redirected back into the community through charitable donations to local groups, and the Massachusetts Lions Eye Research Foundation – MLERF.

Avery Lee Williams will hold a place of honor in the history of the Lions Club, both in Easton, and beyond.
---
by Jon Morgan
Easton Lions Melvin Jones Chair


Nine words spoken by 1.4 million women and men over a dozen times a year all around this globe in 48,000 Lions Clubs. It is uttered in scores of languages by people committed to doing good. By people committed to leaving this place better than they found it. By people who will leave an imprint on their communities. Not a single one of those people expressing our core belief does so with more conviction than Avery Lee Williams did. Lee lived that motto.
The Lions motto speaks to the power of a community. Lee knew that we are so much stronger in numbers than we ever could be as individuals. He knew that to feed a community you had to plant seeds, nurture them, help them flourish and then harvest their bounty. And, you had to reinvest part of that harvest back into the soil – the community. His harvest was the growing number of people channeling their efforts into making our community more inviting, stronger – a wonderful place to live and raise a family.
He spread the seeds around – not just in Easton, but seemingly everywhere he went. In meeting a stranger (and Lee only knew a stranger for a few minutes, after which they became a friend) he would often ask "has anyone asked you to join the Lions?". And the hook was set, the seed sewn. He'd water that seed – using his index card system to circle back around to them in six months, a year, or more. Whatever the "prospect" gave as a reminder interval. The only "no" observed was that rare instance when the prospect asked not to be contacted again, but this was only a temporary determent for Lee.
It helps to know that Lee had a modus operandi. You see, he felt an obligation to leave this place better than he found it, and to make the most of what he'd been given. Lee had to leave a mark, not just on our hearts and our environment, but on our community. And, he wanted to be remembered. It was as if to say: "look what this person of presumably simple means and opportunity accomplished"! "Imagine what you can do"! It was his "Kilroy was here" tattoo on Easton. Lee left us a message: "if I can do it, you can, too".
The imprint Lee made on Easton is tangible. You need not look far to see how our lives are touched by this man. No single person knows the extent of his influence, of his generosity or of the value he brought to us. But know this: Easton is better for having had Avery Lee Williams among us.
Tonight we'll all hopefully retire to our homes and the comfort of a warm bed. As you drift off, ask yourself this question: what will I do to leave my imprint on our community? The farmer in Lee would love to see what you harvest.
by Andrew Parker
Easton Lions President – 2021-2022
Lee Williams loved being loved being a Lion. He enjoyed the camaraderie, the commitment to service and the fact that we exist to help strengthen the community. Being a Lion was a large part of his personal identity.

As you know, Lee would drop a few lines of poetry into every event. One poem. that he shortened and repeated often encapsulated his view of the world, and why he was so proud to be a Lion.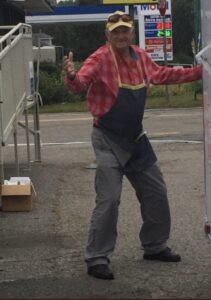 There are two kinds of people on earth today
Two kinds of people, no more I say
Not the good or the bad, for tis well understood
The good are half bad, and the bad are half good
The two kinds of people on earth I mean
Are the people who lift and the people who lean
Lee was a lifter.
He was also our Chief Recruiter. He personally bought in over 250 members to the Easton Lions Club, an accomplishment that gave him
national recognition in 2019.

So I know that he would be disappointed if I did not use this opportunity to say, "has anyone asked you to Join the Easton Lions Club?" I have applications in my pocket. Start a line over here and we'll get you all signed in.

The Easton Lions will miss Lee greatly.
by Matt Soeldner
Easton Lions Past Secretary
I have a hard time thinking of Lee being gone. He had a profound influence on my life for the over 50 plus years that I knew him. He hadn't really changed over those years, he put in 100% effort into whatever he was working on.
Back in the late 60's and early 70's he donated a lot of time to the Easton Youth Center, first getting the space at St Mark's Church and working on expanding it with an addition. Helping us fund raise to pay for it and offering suggestions for how to keep revenue going. One idea was for us to make and sell pizza, but what we were lacking was a pizza oven. No problem. Downtown Brockton was dying at the time, as most businesses were moving to Westgate mall. I believe it was Kresge's Department store had a pizza oven, a big cast iron one. No problem, we will just bring about 5 teenagers and get it out. We couldn't budge it never mind bring it up from the basement. Somehow, Lee conjures up a couple of teamsters and up goes the oven. Did we make any money-making pizza? — No, but it was just Lee seeing an opportunity and going for it.
He introduced me to local political races and got me interested in politics from State Reps to the Board of Selectmen (sorry folks this was the 60's and 70's) to School Committee races. He asked me to join the Jaycees and later on the Lions, twice. He kept trying to get me back for a third time, but I think it was only to get a new hat, that Andrew promised him if he could. I never regretted joining, although I was still young, I learned a lot from Lee. Did I always agree with his ideas? — No, but it wasn't worth losing his friendship.
We had some laughs and shared memories from back in those days, there will never be another one like Lee.
---
Tributes to Lee, our friend
My deepest sympathy to his family, you and the Easton Lions Club. I was not able to get out your way to often but when I did go to the thrift shop or visit your Club I always made it a point to talk to Lee. He could always inspire you to be a better recruiter. I knew Lee, I think, all of my 28 years in Lions. I thought I had the gift to talk to anyone about Lions and joining the cause. That is until I met Lee and he blew me away with his knowledge and gift to convince you to be a Lion. Normally when I got done talking to him I wanted to join again. Ha Ha. Lee will be missed by many, including me, and I know some will be glad not to here his voice continue on about membership but put the challenge out to those members to help keep your membership increasing by using the methods he used.

Roland Grenier, MLERF
Lee, thank you for sharing this journey. You touched so many lives and hearts that you will be carried on my friend. I will never forget how you made me feel. No matter what the day was like, you always made me feel welcome and hopeful for what lies ahead!

Matthew Cioffi, Past President 2016-2017
Lee had a huge impact on Easton and on me personally. He demonstrated how to lead one's life authentically, graciously, and admirably and acted as an excellent role model for us all. I greatly appreciate all that he did for our community. What an admirable legacy he leaves.
He was truly an inspiration! I will hold the thought of knowing him and being friends near and dear to my heart, always! I am so sad for losing such a great man!
He will always be remembered & missed & will never be forgotten! They just didn't come any better than Lee.
Humanity has lost a great person who worked tirelessly in every endeavor he was involved in.
Lee was my mentor when I first joined the Lions many years ago.
He was one heck of a Lion!
I find I cannot offer anything but an enthusiastic AMEN to the other tributes above. He was a gigantic personality and my good friend for 25+ years and I will miss him sorely.

Carl Johannesen, Past President 2000-2001
Adding your memories of Lee
If you have a tribute, memories, or pictures of Lee you'd like to share on this page, please email a copy to Matthew Cioffi (matthew.cioffi@eastonlions.org) or Andrew Parker (president@eastonlions.org).
We welcome contributions from all past and current members of the Easton Lions Club.