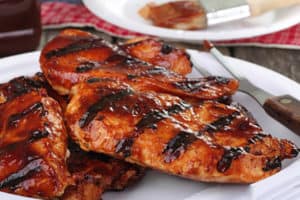 It is always a pleasure to serve our Senior Citizens each year at the annual seniors' cook out. It is one of the ways that we show those who have lived and served in our community that they are not forgotten; that they are respected and loved. We consider it an honor and an act of thanks and love for these older citizens. The cook out was named after Tom Hedrick, a beloved Lion who passed from us a few years ago. Tom loved to participate in this event, and was a musician who also contributed entertainment to add some spark, and some "dinner music". The seniors like to sing along. Kevin Williams has lead the cook-out crew for many years, and made significant contributions and support to its on-going success. We all greatly appreciate the work done by Kevin and his making the transition to our new Head Chef such a smooth one.
This year, the Cook Out Crew was headed up by one of our Lion Chefs, Stan Borgeson. Did you know that Stan cooks for meetings of our veterans at the VFW?
Stan got great assistance from another Lion who is an expert at the grill, Tony Cabral. There were rave reviews for the bar-b-qd chicken!! Indeed, it was very tender and tasty. The menu included salad, chicken, baked beans, potato salad, rolls, butter, coffee, and delicious cake for desert. Fifty-eight (58) Seniors were served.
Other members of Stan's crew were Lions Catherine Sutton, Matt Soeldner, Bob Cunha, Marilyn Henderson, Joyce Tardito, Nancy Arns, Bob Moulton, Paul Lemieux, Nancy Sullivan, Lynn Cleveland, Ruth Calvagne, Marilyn Henderson, and our great President, Matt Cioffi.
Entertainment was again provided by the wonderful duo of Herbie Rae and Steve Heck who really know how to play those great songs that are reminiscent of the wonderful era of the 1940's through 1960. Oh, yes! That was real music! They had the room swaying, and everyone on their feet for the great song, "God Bless America!"
The Seniors told this reporter how very much they enjoyed the delicious food, the wonderful music, and especially the thoughtfulness and generosity of the Lions Club…and feeling a bit "pampered". They truly look forward to and appreciate this event each year.
Thank You! again to Stan and all the Lions who participated to plan, cook, serve, clean up, and make this a delightful afternoon for all.  More Lions worked in the Eye Mobile, which is also a key component of this cookout.
EYE EXAMS AND OTHER HEALTH SCREENINGS – AN IMPORTANT COMMUNITY SERVICE ON WHEELS
From Rich Freitas
Several times each year, the Easton Lions schedule the Massachusetts District 33S (our district) Eyemobile for service in/for our town. One of those times is at the Annual Senior Citizens Cook-Out. It was a nice day for screenings – partly sunnyand in the 60's, bringing 31 Seniors to the Eyemobile between 1 & 4 PM.  Driving this huge "clinic on wheels" for this event, was our own Lion, Jorge Cortizo.
Parked immediately outside the Council On Aging building, eye exams are performed by trained and experienced Lions, Rich Freitas and George Mussari. They are also trained to do Glaucoma and Hearing screenings. Their commitment to this community service project is more than commendable. They have, literally, been doing this work for years! Quite the team!! They were joined by VNA Nurse, Rosemary Dolan, who performed blood pressure and blood sugar screenings, and Deborah Junkins, the Marketing Manager for the Attleboro Community VNA who organized these screenings. We are grateful to them for their dedication and willingness to work with us.\
Screenng results:
Type          No.      No.
Tested   Referred
Vision           6         0
Blood Sugar     10         0
Blood Pressue   10         0
Glaucoma         0         0
Hearing          5         4
These free screenings have been critical to some children and adults whose problems with eyesight were spotted early enough to enable treatment that improved their sight.
Please call Rich Freitas if you wish to help out, learn to use the screening equipment, or are interested in driver training.
The next scheduled date for the Eyemobile is December 3rd at the Holiday Festival.