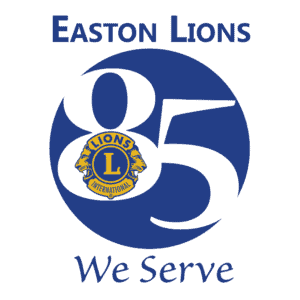 By Matthew Cioffi
Our Club will celebrate 85 years of service in September 2016.  To help commemorate the year I've started a History Committee made up of Ed Hands, Marion Wingfield, Matt Soeldner and myself.  We've received many good ideas and will celebrate throughout the year focusing on what the Lions Club have done for Easton.
We are working to write 4 articles about our history. We'd like to get these published in our Club newsletter, the Easton Journal and possibly the Enterprise over the year.  Each article will focus on a different topic.  If you have other suggestions, please let us know.
One about the Gillette Bros speech, which lead to the founding of the organizations.  Including a list of the founding members and the original charter, with photos.  There is a photo from a 15th anniversary dinner taken in 1946.
WHO the Lion's HELP.
A piece about the wonderful, fun events the Lions have hosted over the years — e.g., the Rockery Holiday Festival, Yardley Wood Rink, Parades, etc.
Who are the famous Easton Lions?
The last article about the future of the Easton Lions Club would be written by the President and Vice Presidents.
We also want to plan a celebration dinner based on the inaugural meal they had in 1931.  Ed had a copy of the menu in the Historical Society folder for the club.  Some other ideas we came up with are listed below. Not all of these will come to fruition, but we hope to get a couple of these done! We'd need to get as many Lions involved as possible to help out.
Exhibit created by Lions at the Easton Historical Society and Ames Free Library;
Essay contest about the Lions in Easton, administered by Matt Auger, Social Studies Chair;
High School exhibit project to be mounted at the library, historical society, or OAHS;
Art contest, administered by Kristen Shea, on an event timeline from 1931 to 2016;
Oral history project of Lions and community members talking about how the Easton Lions have impacted them;
ECAT could have a filming panel of long time Lions to discuss our history.
Both Ed, with connections to the Historical Society and Easton Schools, and Marion, with her library science and museum background, will be key to getting this off the ground.  But to make this a success we will need many Lions to participate.  If you know past members or had older family members who grew up in Easton, pick their brains about what they remember about the Lions in Easton from year's past.  We also need to document the more recent years and need many newer member's stories too!
If you'd like to be active on the committee, let me know.  Please send your stories, pictures and memorabilia to
history@eastonlions.org or call
Ed Hands at 508-238-3159 or
Marion Wingfield at 508-230-8851.