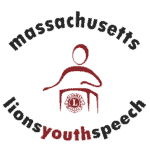 Our Youth Speech Competition provides an opportunity for students in grades 9, 10, 11, and 12 to speak publicly and freely on a designated topic of general interest.
2016-2017 Speech Topic:
Being Politically Correct: Is It Taken Too Far?
The competition starts at the local club or school level and proceeds through several levels of competition ending several months later with a state wide competition. In between there are zone, region, and district levels of competitions where the winner of each level has the opportunity to proceed to the next level.
Eligibility
The competition is open to all students who reside within or attend school located within MD33, including foreign exchange, charter school, private school, home schooled, or independent study students in grades 9, 10, 11and 12, provided they are sponsored by a Massachusetts Lions, Lioness, or Leo Club.
The speech is to be given in the English language only. Phrases in a non-English language must be immediately followed by a direct English translation.
A student can participate in only one club level competition in a school year. Each Club in the District may sponsor one student beyond the club level competition. A club may decide to sponsor students outside its geographical boundary.
Prizes and Awards
There are prizes and/or awards for each contestant at every level of competition. The prizes at the State Competition are $1,500 to the winner and $500 to each runner up. Prizes at other level of competition are at the discretion of the Clubs or District Governor.
Best in the State
The competition culminates with five statewide district winners vying for the title of BEST IN THE STATE at the annual Lions State Convention.
Click here for more information about the Massachusetts Lions Youth Speech Competition.