Raising Multicultural Kids One Book/One School Read-Aloud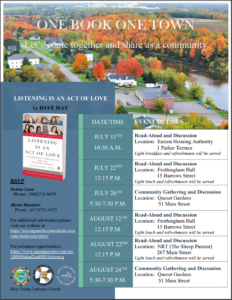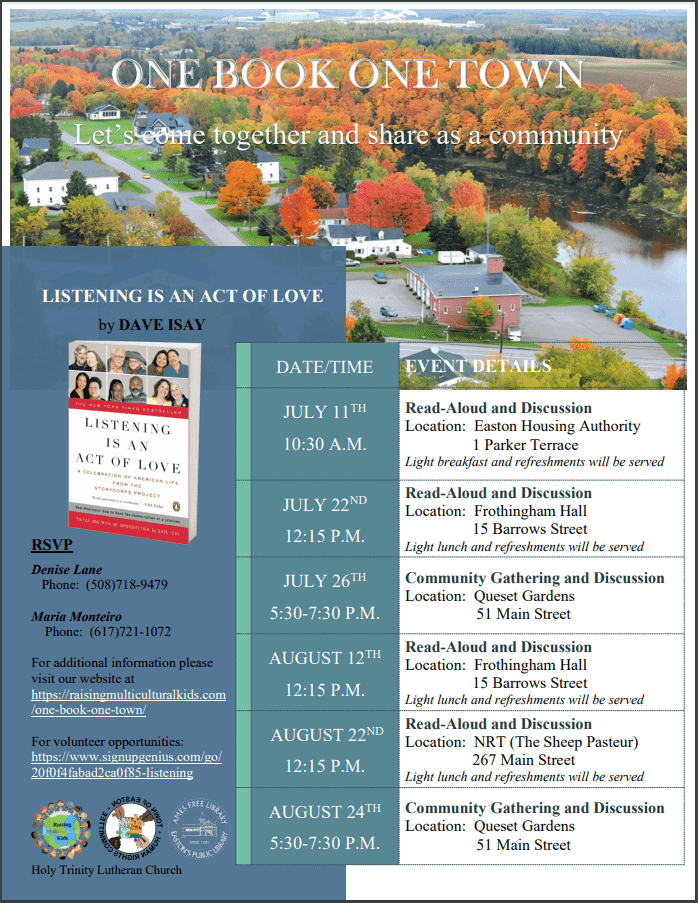 3 of 6 spots needed:
1.  Michelle McGee
2.  Jim Abate
3.  Claire Abate
4.
5.
6.
Raising Multicultural Kids has reached out to the Easton Lions Club for their support in their summer project One Book/One Town.  The goal of One Book – One Town is to bring together the Easton Community (young and old – all who live, work, worship and visit) to develop an understanding of a range of perspectives about the human experience using a common theme or book as a foundation for discussions and events.  This summer they chose "Listening Is An Act Of Love" because it is capable of opening the hearts and minds of anyone who takes the time to read and/or listen to the stories.
RMK is looking for volunteers to help with this project.
I have reserved our Club 6 spots as readers on Monday, August 22nd from 12:15pm-1:15pm at the NRT Sheep Pasture.  If you would like to join me that day to help read-aloud to seniors and the differently abled (anyone can sign up to help AND attend) please contact me ASAP.  
If you cannot join us that day but still wish to volunteer there are many other opportunities listed below:
Volunteer Opportunities:Please see the attached events flyer for current events.  Select dates/volunteer opportunities, from the link below, where adults and youth can volunteer to help.  Youth can receive volunteer hours for NJHS or NHS.https://www.signupgenius.com/go/20f0f4fabad2ca0f85-listeningIf you know of anyone or group who would like to be included in the read-aloud discussion session, please contact me at

 

DeniseLaneRMK@gmail.com

 

or Maria Monteiro at

 

MariaMonteiroRMK@gmail.com.Books And Materials:The Ames Free Library has 25 books that can be checked out in a special display set up on the center end-cap in the adult fiction section.  Overdrive (Libby) has 10 licenses for the book and 11 for the audio book.

IF YOU ARE INTERESTED IN SIGNING UP TO READ ON 8/22 WITH THE CLUB PLEASE EMAIL MICHELLE MCGEE AT INFO@EASTONLIONS.ORG